Food Safety Tips for Ordering Takeaways
Macao is currently in summer, and the weather is sweltering hot and humid. If the food storage temperature and time are not controlled appropriately during delivery, the food is prone to rapid bacterial growth and spoilage. Consumers should exercise more caution to the food delivery progress after placing an order. If the food has not been delivered within a certain period of time or if the delivery time takes too long to arrive, consumers should call the restaurant or food ordering platform immediately and request to follow up on the delivery. When the delivery person notifies that the food has arrived, consumers should always collect the food promptly and consume it as soon as possible to avoid leaving it at room temperature for an extended period of time.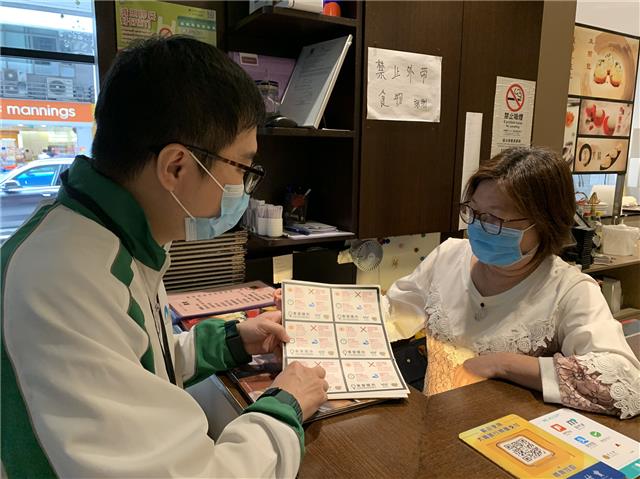 Distributing 'Food Safety Reminders' stickers to food establishments, and reminding the owners to practice food safety in takeaway delivery
In addition, IAM has specially produced the sticker of 'Food Safety Reminders', handed out to food establishments during door-to-door visits, encouraged them to put the sticker on the outer packaging of takeaways. It serves to remind consumers to pay attention to food safety aspects in the delivery and consumption of takeaway food, heightening the awareness of food safety precautions in both consumers and food establishments, to effectively reduce the risk of foodborne disease outbreaks. The 'Food Safety Reminders' sticker for takeaways has already been uploaded to the "Food Safety Information" website for food trade to download, print out and stick on the packaging of takeaways. It is a further precautionary move against foodborne disease outbreaks.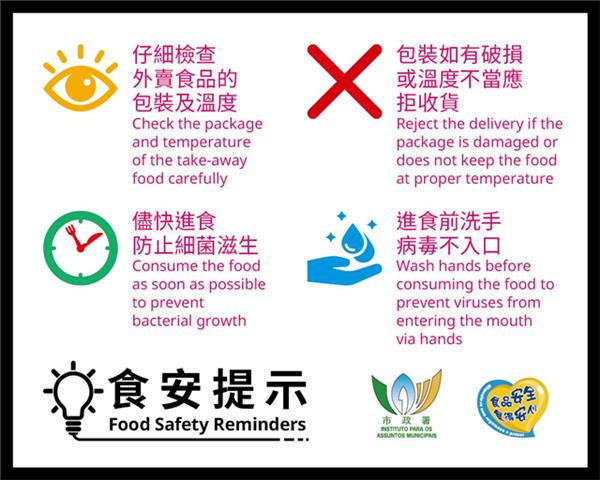 'Food Safety Reminders' sticker for takeaways
To ensure food safety, it takes the concerted efforts among the general public, food trade as well as government's supervision:
Important notes for consumers:
Before placing an order, carefully choose a restaurant, food establishment or a third-party online food-ordering and delivery platform that is reliable, adheres to hygiene procedures and with a good reputation;

After placing the order, consumers should take note of the delivery progress. If the ordered food has not sent out over a period of time or if the delivery process is longer-than-usual waiting time, consumers should call the delivery person or food establishment to inquire about the food delivery status and ask for follow-up;

When informed by the food delivery person to collect food items, pick them up as soon as possible to avoid leaving them at room temperature for a long time;

Upon delivery of takeaways, check the delivery time. The time from food preparation at the restaurant to delivery to the consumer should not exceed one hour;

Check carefully whether the packaging of food delivery is intact. If cold food is no longer chilled or hot food is cool upon arrival, tell the delivery person or notify the concerned food business about the problem at once, and reject the delivery;

After receiving takeaways, any ready-to-eat takeaway food has to be consumed as soon as possible. If the food is not intended for immediate consumption, store it in a refrigerator, or use hot-holding equipment to maintain food temperature, as determined by its required storage conditions.
Important notes for food trade:
Use vehicles with temperature control equipment for food delivery so far as practicable. Otherwise, use sufficiently insulated food containers or cool boxes (with ice cubes or dry ice) for food storage;

Pay special attention to time and temperature control during delivery of takeaway food. Make sure the time between the completion of food preparation and delivering it to the customer should not exceed one hour;

Follow the rules of 'Separate Raw Food and Cooked Food', 'Hot Food Stays Hot and Cold Food Stays Cold' in food storage and delivery;

Upon arriving at the delivery destination, the delivery person has to notify the client at once to receive the takeaway. Do not leave the delivery unattended or on the floor.
To effectively reduce outbreaks of foodborne diseases, IAM has launched a series of takeaway food safety tips and information as following for the public and food industry as a reference.
For the Public:
For the Food Trade:
For the Public and the Food Trade:
Food Safety Tips for Delivery of Takeaways